So it has been long again.
Quick update here, twitter followers should know, I emcee-ed with one of my Year 2 lecturers, Jason for this year's Ngee Ann Poly National Day Celebration Concert 2010. Great experience, made me feel exceptionally patriotic this year :b

Emcees, Jason and myself

rah rah-ing! check out the cool LED clappers!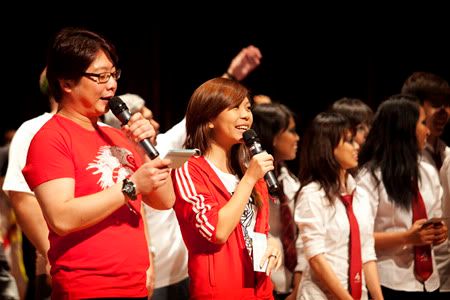 decked in red
All in all, it was really enjoyable. What a way to end off my unofficial last day at school and to get to know lecturers like Ms Hong. Yes, it is almost the end of my poly journey already. it's been crazy. I just went through a 5 day almost-no-sleep routine and then proceeded into a 17-hour sleep coma.
Soon, in early Oct I'm heading off to an advertising company for internship, but meanwhile there are going to be some exciting things along the way :D
This year has been pretty good to me so far :)