Instead of doing the conventional "What I did on Day 1" kind of post, I decided to take a different approach this time. I've learnt a lot through this trip to Ho Chi Minh, many things that I wish people had told me before I actually got there. So here I am, with as much as my mind can remember just so you know what to look out for.
Part 1 features the essential things useful to note before even making a trip there, I'm thinking Part 2 will probably cover the various tourist attractions and places to go. Hope this is beneficial to some and interesting to all! :)
Currency
The currency used is the Vietnam Dong (VD), or simply called "Dong". I used an estimate of about 16,000VD:SGD1 for easy counting, and numbers on price tags can easily go up into millions so do take note and be careful not to get cheated. It's handy to have a calculator around (to haggle or to count).
The viets will also usually quote in USD when they can tell you're a tourist. It's widely used there but I've read online about how one can get the most out of the currency exchange by changing the Singapore dollar into USD before changing it to the Dong. Too much hassle? You decide.
They have HSBC and ANZ outlets and ATMs are readily available. In fact, as long as theres a logo on the machine that tallies with your card, that does it (Cirrus/ Plus). The ATMs have a max withdrawal amount of 2,000,000VD each time and charge a 30,000VD processing fee.
Flight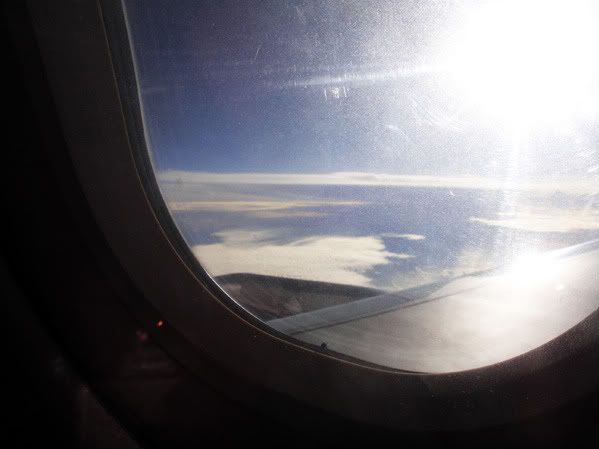 I booked my air tickets via Jetstar.com and got them at SGD$174/pax. The best time to go is supposedly from December to March when it's cooler, but I wouldn't worry too much, considering the temperature is very much the same as it is here in Singapore. Tiger Airways probably offers cheaper tickets so if you're looking for a cheap getaway, Ho Chi Minh might be it!
Food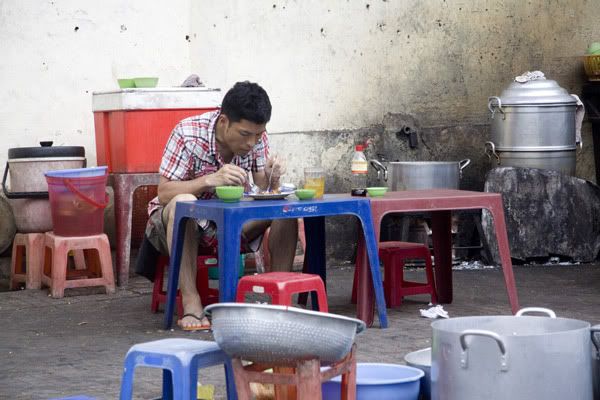 Food is readily available and easy to find as long as you're willing to eat from roadside stalls. I think Singaporeans would be the happiest there for most Cafes and Restaurants are super reasonably priced. Food is really cheap there (it is about SGD$1.25 for a bowl of pho) and so is booze! Their local brew, 333 (prounounced ba-ba-ba) is smooth, not too sweet and is available at only 16,000VD (SGD$1) a can!
Some of the must-tries/local favourites are Banh Mi (Baguette stuffed with meat, onions and lots of veggies), Pho Bo (Beef rice noodles), Cha Gio (Deep fried spring rolls with shrimp and glass noodles) and Banh Xeo (Stuffed crepes).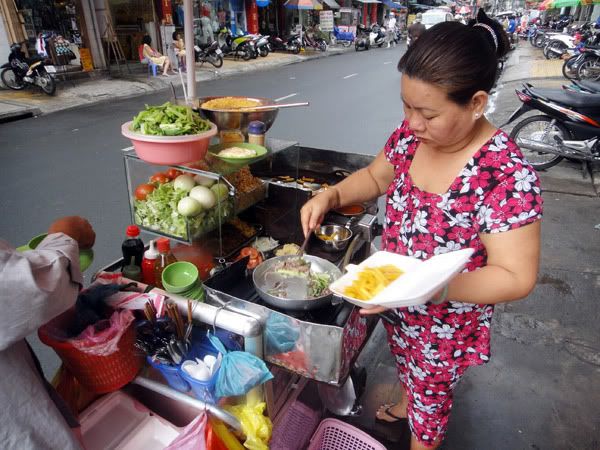 Roadside hawker along the streets of Pham Ngu Lao

What I bought from her stall. Beef with penne ( It tasted more like the Chinese carrot cake for some reason…)

Crispy Crepes

Char Gio & Bánh Tráng (The deep fried and non deep fried versions respectively)

Pho Bo (Beef Rice Noodles)

Drinks

UnripeGreen Mangoes at 25,000VD/kg (~SGD $1.60)

Any idea what fruit this is? I think it's honeydew.

Ba-Ba-Ba
Lodging
I stayed at the Riverside Hotel Saigon (just across from the Saigon River and near the Dong Khoi district at USD$59/night) and only made my booking via phone the night before. There are many choices around and they range from backpackers places to the more atas ones (Majestic Hotel/ Rex Hotel/Hotel Continental). Prices range from as cheap as USD $7 a night in a hostel to USD $300++ for one in Rex.
I was skeptical about staying in a place that cost anything below USD$30, but it's after being in HCM that i realised it's really okay. I really really enjoyed my time in Pham Ngu Lao, or where they call the backpackers area, and hostels and mini hotels literally flood the area. I'll gladly pick any and stay there! Plus there are so many around, you can just take your pick upon arriving there instead of making a booking in advance.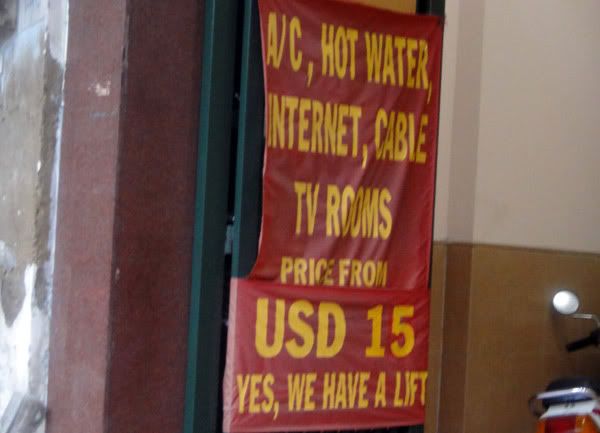 "A/C, Hot Water, Internet, Cable TV Rooms. Price from USD 15. Yes, we have a lift." One of the witty banners at the entrance of a backpackers hostel in Pham Ngu Lao

You can easily spot these small hotels on basically every street in the area. In this photo alone, Hotel Hana and Century Hotel

The more "expensive" hotels in Dong Khoi, Grand Hotel

Hotel Continental Saigon

The famous Rex Hotel (with the rotating crown at the top!)
Shopping/Souvenirs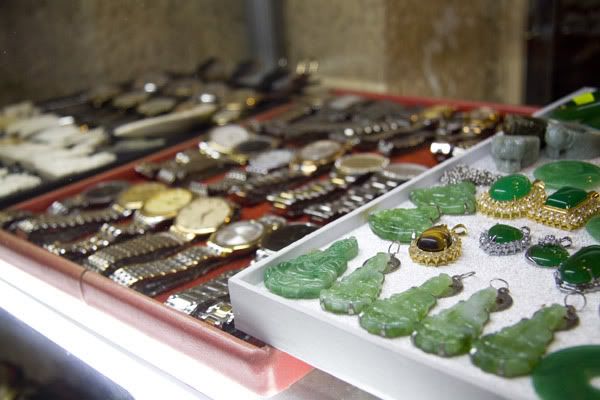 There are the typical luxury brands (Gucci, Louis Vuitton, Chanel) and then there are others (Giordano, Bossini, MOF, O.P.I., Levi's & even Shunji Matsuo!).
I found it hard to buy anything in the first few days, but one thing I heard from many is to custom-make outfits there. I had an evening maxi dress tailored for USD60 (about SGD $76) and my mom actually made a 3-piece working suit for USD$110 (about SGD $139)!
One can also choose to buy antiques or war memorabilia but be alert as many of them are now replicas. You can easily find old rusted dog tags, badges and watches. I also saw a couple of shops carrying old working film cameras! (A Rolleiflex went for about USD$250)

Replica branded goods are also all around…
There are countless souvenirs to choose from as the Viets are really talented at crafts — Purses made out of old drink cans, rice hats, leather goods and cheap shawls. One that I really liked (and bought) was this "Miss Vietnam" wood statue.
It looks fairly expensive but I got mine at only 50,000VD (SGD$3.20)! I've got a long story to accompany this one, but to cut it short, first lady wanted to sell it to me at 400,000VD (SGD $25), second lady wanted to sell it to me at 200,000VD (SGD$12.50). I told her I wanted it at 50,000VD and proceeded to walk away but I got my price in the end! It's really always useful to know the approx price of stuff & always haggle! (I happened to read online that the statue costs only about USD $3~5 the night before)
More recommendations of places to shop at in Part 2!

Old "war-time" badges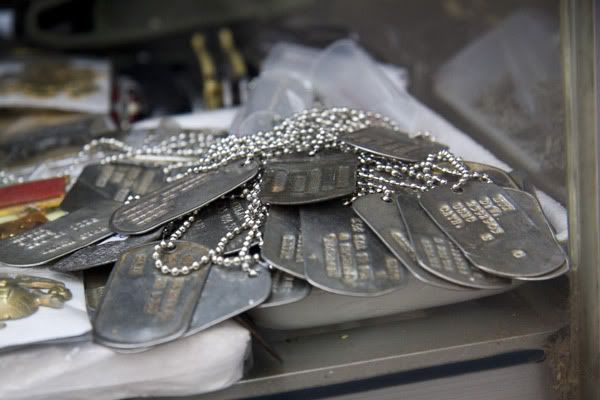 Old "war-time" dogtags (would you dare buy them?)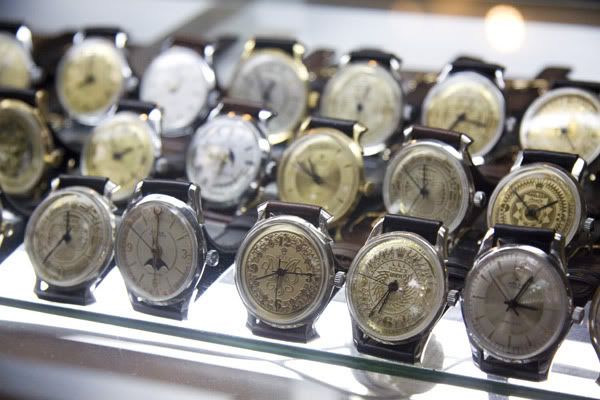 Replica antique watches

Old watch faces

Real baby crocodiles as keychains

The signature rice hats and handpainted souvenirs

Old film cameras
People
The Viets are really helpful and friendly and I'm proud to say that I made a friend there! (More on that in Part 2). Most of them in the touristy areas do speak basic English and we bumped into a few that speak Cantonese.
We probably also saw a Caucasian for every 5 Viets and most of them spoke basic Vietnamese so it was pretty interesting.
I asked a lot of people for directions and most of them were really helpful. A couple of them also kept asking me to be careful (because I was slinging my DSLR) and I got that so much I eventually decided to hang it around my neck and hold it where ever I went.
Traffic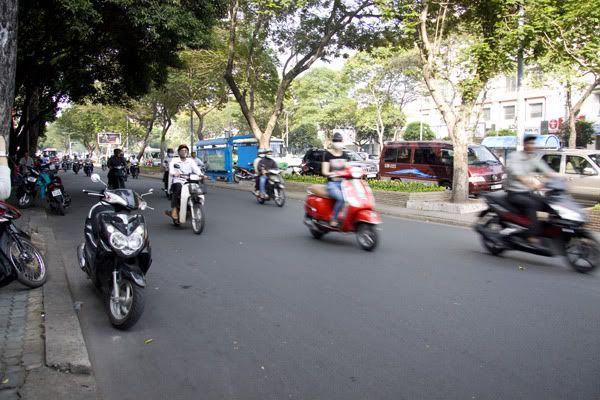 Traffic is probably what I heard most about before I left. The two wheelers reign the roads. The streets are flooded with more motorcycles than cars, and the sound of horns flood the roads. They almost don't use signal lights or give way to each other (that's what the horns are for) and some parts of the town do not even have road markings/dividers. There are no pedestrian crossings, just stripe markings on the floor at the junctions.
Embarrassingly, crossing the road took quite a while at the start. We kept hesitating. Soon though, we started just shadowing locals and taking the first step. Cars give way more than motorcycles do, but if you still find it tough then just do what we did — follow someone and soon you'll get the hang of it.
Transport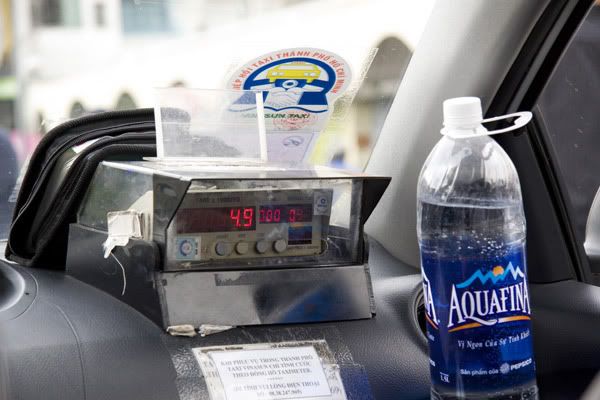 (The starting fare is actually 4,900VD/SGD$0.30; my mom and I mistook it for 49,000VD/SGD$3 the whole time. Would you blame us? $0.30?!)
As mentioned above, motorcycles are the main form of transport in Ho Chi Minh and both cars and bikes can be easily rented. I don't recommend that though, as traffic is VERY different from Singapore. I witnessed an accident on my short trip there (A pregnant lady got knocked unconscious) and it is apparently a common sight.
Cabs are readily available and most of them are air conditioned. Some cabbies understand English, most don't. It's always handy to have a map with you so you can point out where the places are. (Attempting to pronounce it doesn't work. Tested & Proven – Hahaha) Make sure you tell them to go by the meter (never assume they will just because they have one in their cabs). Word of caution, different companies have different charges and these differ GREATLY. My mom & I lost quite a fair bit of money on taxis and here's where it's going to be slightly lengthier.
Tip #1. Read the meter properly.
Look at the number on the meter and multiply it by 1,000VD. The decimal point can be a little off throwing and on three occasions we paid 10x more than we ought to (of course, the driver just happily accepted the cash). We travelled mostly within the area and most of our taxi fares cost about 35,000VD (about SGD$2.20) on average.
Tip #2. Check your change.
After arriving at your destination, always check your change. Some cabbies try to pull a fast one but leaving out a couple of notes and only slowly give it to you one-by-one when you just sit there and wait for it (and actually show that you bother about it).
Tip #3. Always only board a "legit" taxi.
When I left the war remnants museum, I was swiftly "escorted" out and had the taxi door open for me. Everything happened so quickly I didn't even have a chance to notice what car I was on. It was only when the meter started jumping when I noted something amiss. I was on a "private" cab (meaning just a normal car, with no toplight) and the fare just kept increasing every 10 seconds or so. The total fare amounted to about 135,000VD (SGD$9.10), but probably would have only cost about 16,000VD (SGD$1) or so on a normal cab.
*Extra tip from Ryan: Both Vinasun and Mai Linh are safe taxis to take.

The very similar looking "Comfort" cab we took from the airport to our hotel.
—
And that's all (a lengthy one, no doubt) I've to share so far. I've honestly got a whole lot more to talk about but these are what I feel are the "essentials".
My mom and I got ripped off a lot during this trip, but we paid the price only because we actually felt it was "reasonable" or still "cheap". It's only after asking around or buying the item again for the "real" price did we find out -.- It's a lot about trial and error and with the cost of living there, we understood that people had to work really hard to make a living. Honestly, paying 3 times the price of something still seemed reasonable to us at that point of time…
Should there be anything else regarding Ho Chi Minh that you're curious about and would like to ask, leave a comment down below! :)